Carter took over on Jan 20, 1977 - a year which Ford budgeted and owns. That year, the GDP was 2 trillion 86 billion.
The last year Carter budgeted was 1981. The GDP was 3 trillion, 211 billion. That a growth in 4 years of more than 50%.
Reagan came IN on 3 trrill, 211 billion. EIGHT (not four) years later, his last budget year (1989) was 5 trillion, 658 billion. That's 75% again - IN EIGHT YEARS, you stupid ape.
Even most conservatvie pundits agree that reagan sucked on the economy. Only in progressive la la land do people thnk that reagan was good on the economy.
CATO CAUGHT COOKING THE BOOKS:
viewtopic.php?f=3&t=13851
https://en.wikipedia.org/wiki/Tax_Refor ... _tax_rates
The top tax rate for individuals was lowered from 50% to 28% while the bottom rate was raised from 11% to 15%.
[
4]
Many lower level tax brackets were consolidated, and the upper income level of the bottom rate (married filing jointly) was increased from $5,720/year to $29,750/year. This package ultimately consolidated tax brackets from fifteen levels of income to four levels of income.
[
5]
This would be the only time in the history of the U.S. income tax (which dates back to the passage of the
Revenue Act of 1862
) that the top rate was reduced and the bottom rate increased concomitantly. In addition,
capital gains
faced the same tax rate as
ordinary income
.
http://money.cnn.com/2010/09/08/news/ec ... /index.htm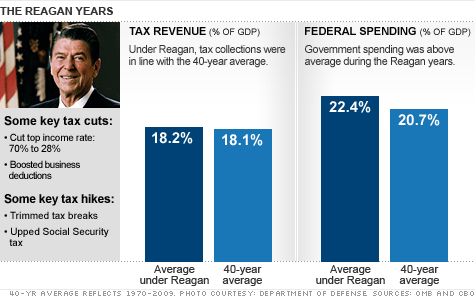 Source:
http://blogs-images.forbes.com/adamhart ... c-1500wi15
Source:
http://b-i.forbesimg.com/rickungar/file ... 2_ME11.jpg
http://data.bls.gov/timeseries/CES0000000001